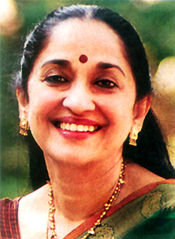 A historian, environmentalist and writer based in Chennai, Nanditha Krishna has a Ph. D. in Ancient Indian Culture from Bombay University, where she was also a Heras scholar.She has been a Professor and Research Guide for the Ph.D programme of CPR Institute of Indological Research, affiliated to the University of Madras.


She was the Honorary Director from 1981 of The C. P. Ramaswami Aiyar Foundation and was elected President in 2013. She is the Founder of its constituents: C.P. Art Centre; C.P.R. Institute of Indological Research; Saraswathi Kendra Learning Centre for Children; The Grove School (Chennai); Shakunthala Jagannathan Museum of Folk Art and Rangammal Vidyalaya (in Kanchipuram); Sir C.P. Ramaswami Aiyar Memorial Nursery & Primary School, Kumbakonam; and C.P.R. Environmental Education Centre (established by the Ministry of Environment, Forests and Climate Change, Govt. of India).
For more information, please see www.cprfoundation.org and www.cpreec.org.

She is also the President of the Conjeevaram Hindu Educational Society (SSKV Schools & Women's College), Kanchipuram; Blue Cross of Kanchipuram; and Member, Governing Body of Blue Cross of India.

She is the editor of ECONEWS, Indian Journal of Environmental Education, www.heritageonline.in and publisher of the Journal of Indian History and Culture.


She is the author of
"Groves and Gods of Tamilnadu" (Indian Council of Historical Research, Southern Regional Centre, Bengaluru)
'Life Lessons from Mahavira' (Aleph)
'Mahabalipuram' – The Ganga Comes to Tamil Nadu (Mapin Publishing)
"Life Lessons from Adi Shankara" (Aleph);
"The Book of Avatars and Divinities"; "Hinduism and Nature"; "Sacred Plants of India"; "Sacred Animals of India"; "Book of Demons"; "Book of Vishnu" (Penguin India)
"Madras Then, Chennai Now" (Roli Books)
"Madras-Chennai, Its History and Environment"(New Horizon Media) "Balaji Venkateshwara"; "Ganesha" (jointly with her mother Shakunthala Jagannathan) (Vakils);
"Painted Manuscripts of the Sarasvati Mahal Library" (Govt. of Tamilnadu)
"The Arts and Crafts of Tamilnadu" (Mapin)
"The Art and Iconography of Vishnu-Narayana", (Taraporevala)
"Deva Pratima, A Compendium of Essays on Indian Iconography"; "Paintings of the Varadaraja Perumal Temple, Kanchipuram"; "Folk Toys of South India"; "Varahishwarar Temple – Damal"; "Folk Arts of Tamilnadu" (CPR Publications)